Kukuřičná , Sibřina
Family house 297m2, terrace, swimming pool, double garage, land 918m2, Sibřina, Praha-východ
---
14,900,000 Kč
including legal services and agency commission
PRESENTATION OF REAL ESTATE
Family house of above standard quality and design, 7 + kk with an area of 297 m2 located in the village Sibrina, on Prague-East has a large garden, spacious terrace, double garage, heated and roofed swimming pool, solar shower or rainwater retention tanks.
Perfectly designed building with enough space for meetings of all members even of a large family, with the possibility of maintaining sufficient privacy for each of them at the same time.
The ground floor is dominated by an open living area with kitchen and dining part. The large windows with direct access to the terrace enhance the feeling of an airy place. A fireplace guarantees the cozy atmosphere of the house. In the kitchen with design built-in appliances of Scholtes brand, you can enhance your passion for cooking on a professional gas stove, there is also a separate food room available. On the ground floor you will find also a bathroom with shower and toilet, technical part of the house with laundry, storage, and garage for 2 cars. On the upper floor of the house there are located 5 separate rooms, wardrobe, bathroom with whirlpool bath and massage shower, as well as a separate toilet. The house has a spacious walkable attic.
In the garden with ornamental trees and mature bushes along the fence there is a heated swimming pool with a roof and a solar shower. Along the perimeter of the house is a large, partially covered terrace of 100m2, mostly with south and east orientation. On the plot there are two rainwater retention tanks with a total volume of 9000 liters, which save the cost of running the house and provide an irrigation system for the entire garden.
The house is also equipped with a remote control entrance gate, 4-cameras security system, alarm, data wiring in each room, plastic windows with triple glazing and external aluminum blinds. On the ground floor there are heated floors, on the upper floor there is a combination of a hall with underfloor heating and radiators in the rooms. Heating and hot water is provided by a gas condensing boiler of Buderus brand.
If you are looking for quality and quiet family living with proximity of nature and at the same time convenient, quick access to Prague, Sibrina will be the right choice for you. In the surroundings you can enjoy biking on marked bike paths, or take walks in the near nature park Klanovice. Kindergarten and elementary school are located within 2,3 km from the house. Shopping and entertainment options in Pruhonice park can be reached within 15 minutes drive by car, Ricany and Uhrineves in 10 minutes. Just 5 minutes walk from the house there is a stop of 2 bus lines (direction Uhrineves - Hostivar, or direction Ujezd nad Lesy - Cerny Most). BER-C.
BASIC INFO
Are you interested in real estate?
Contact the agent dealing with this property.
OTHER PROPERTIES OF THE AGENT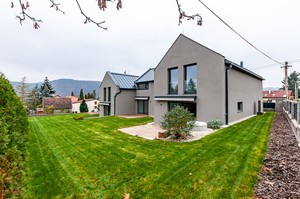 Ve Strouze, Vrané nad Vltavou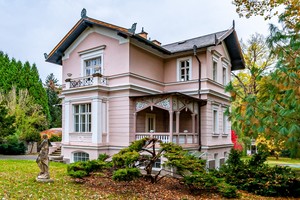 Riegrova 98, Roztoky