Střezimíř 5
Homestead in the middle of the beautiful landscape of Český Meran
---
28,000,000 Kč
price including legal and mortgage service
PRESENTATION OF REAL ESTATE
The estate Pod Horou, address Dolní Dobřejov 5, is located in the romantic landscape of Český Meran. Originally a farm, now renovated for year-round living, it consists of three buildings: the main building - a cottage, a guest house and a barn. The reconstruction took place according to the architect's project with great respect for the original elements and with the aim of ensuring maximum living comfort. Heating is provided by an electric boiler and hot water by an electric boiler. A heat pump project is available. The homestead has its own source of high-quality drinking water (drilled 34 m deep well) and wastewater treatment plant.
The homestead includes a forest, meadows and two ponds.
Cottage: on the ground floor there is a large traditional kitchen, a living room, a toilet with a sink, a utility room and a pantry. In the attic there is a bedroom and a large bathroom (two sinks, bathtub, shower, toilet and bidet). The house has a partial basement. The floors are made of solid wood and in the entrance part, hand-fired tiles. Usable area of the cottage: 166 m2 including cellar.
Guest house: on the ground floor there is a largeý living room/common room with kitchenette and toilet with sink. From this room there is direct access to the terrace. The floor on the ground floor of the house is made of hand-burnt tiles, the terrace is made of larch. There are three bedrooms in the attic, each with a separate bathroom equipped with a shower, sink and toilet. Usable area of the house for guests: 153 m2
Barn: a new barn is built on the floor plan of the old barn in a traditional style but using modern materials on a solid foundation with a concrete slab. The attic of the barn is accessible by a wooden staircase and offers one large storage space to the extent of the entire area of the barn. Usable area of the barn: 153 m2
The homestead includes a forest, meadows and two ponds.
Complete civic amenities are available in the village of Sedlec-Prčice, 7 km away, and partially also in the village of Střezimíř (approx. 2 km away)
There is extensive documentation on the houses and their reconstruction, including a more detailed description of the property. The property is sold including most of the equipment.
BASIC INFO
Are you interested in real estate?
Contact the agent dealing with this property.
JUDr. Jaroslava Svejkovská
OTHER PROPERTIES OF THE AGENT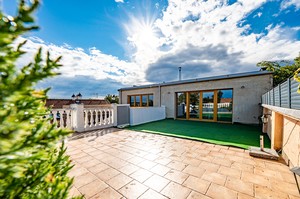 Na návsi 18, Velké Přítočno