Zlatnická 1129/8, Praha 1
SOLD - Apartment 1 + kk after complete reconstruction, 36.4 m2, Prague 1 - New Town
---
7,900,000 Kč
SOLD
PRESENTATION OF REAL ESTATE
SOLD - Distinctive, cozy and very quiet apartment 1 + kk after complete reconstruction, in the center of Prague, near Petrske square, within a walking distance of monuments, museums, theaters, stylish cafes and restaurants, just 3 minutes walk from the subway and other public transport lines.
The apartment with an area of 36.4 m2 is situated on the 2nd floor of a building without an elevator. SVJ consists of three separate houses lined up from the street behind each other. The object of sale is located in the last, quietest house and is accessible through a passage through the courtyard. The entrance to the house is on a chip and is secured by a camera system.
The layout of the apartment itself consists of an entrance hall, bathroom with shower, separate toilet and a spacious and airy room. The apartment also has a share of common cellars.
The apartment has been completely and sensitively renovated, with an emphasis on preserving the original features and harmonizing every detail. The owner took good care of the apartment and lived in it personally. The apartment has new distribution of electricity, water, waste, new tiles, paving, plumbing, new electric boiler, new wooden casement windows, security entrance doors and, last but not least, custom-made furniture. There are high ceilings, renovated parquet floors with sealing varnish.
The interior is attracted by the luxurious Victorian-style William Morris wallpaper, decorated with hand-colored Bologna designer Irma Fiorentini. Not to be missed are the original refurbished doors from the room, with the old manual technique of icing glass. The metal brackets for the curtains were made by an artistic blacksmith. The kitchen with built-in Gorenje appliances in the retro range perfectly matches the interior of the apartment. The storage capacity is sufficient for 2 people. The whole atmosphere of the apartment is perfectly underlined by a decently ringing bell from the nearby Petrska Tower.
Highly attractive location with all amenities. Excellent transport accessibility, close to the metro station Namesti Republiky and Florenc and also the train station Masaryk. To relax and unwind, the nearby Lannova Park and, of course, romantic walks along the Vltava embankment. PENB-G
BASIC INFO
Are you interested in real estate?
Contact the agent dealing with this property.
OTHER PROPERTIES OF THE AGENT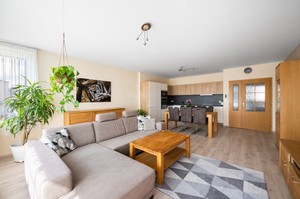 Melodická 1385/9, Praha 5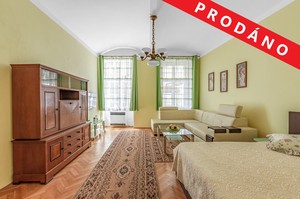 Ve Smečkách 595/28, Praha 1