Hlavní, Horoušany
Commercial premises (shops) in a newly built multifunctional building
---
13,800,000 Kč
PRESENTATION OF REAL ESTATE
We offer for sale commercial premises (1-3 stores). Usable area 165m2, which also includes an outdoor area with parking in a newly built multifunctional building. The building is located directly on Hlavní Street, between Úvaly and Nové Jirny, road No. 101, which connects to the 1st class road No. 12, Prague - Kolín or, along which there is a driveway to D 11 (Prague - Hradec Králové) exit no. 8. According to a noise study, up to 8 thous. or.
In the desired location near Klánovice Forest, on the border of PH9 and Prague - East, Nové Jirny.
Completion October 2020
Large shop windows, a total of 18 meters facade. In front of the shops (commercial space) provided parking with a capacity for 6-8 cars.
Separate ground floor with a usable area of 165 square meters, with wheelchair access. The space will be adjusted according to the client's request.
It is possible to adapt the space layout:
variant 1)
one large room 146m2 plus hallway, x2 toilet, shower, cleaning room or more WC, total 14m2,
variant 2)
2x shops 60m2 + 86m2 with offices, plus facilities 14m2,
variant 3)
3x separate sales units 60m2, 50m2, 36m2, each with its own entrance, shop window and bathroom, a total of 14m2 facilities.
Commissioning will be established according to the requirement and type of establishments. You can also gastro, fast food, bistro, pizzeria, cafe, pastry shop, bakery, delicacies ...
The village explicitly lacks a pharmacy, hairdresser / beauty salon, grocery store and sale of farm goods. Ideal also for a show-room, real estate agency ...

The subject of the purchase is a completely finished interior and exterior, a floor with quality tiles, a separate unit for counting electricity, modern ceiling heating of infrared panels, which ensures healthy dust-free and very economical heating. Thermostats and secondary electricity meters in each room. A total of x2 toilets, one with a shower and 1 cleaning room.
Aluminum windows in a color with an emphasis on modern European design - sand color 518 HEVEN. The shop windows are with triplex safety glass + 6 mm energy glass with high UV resistance.
Construction work continues continuously.
All documentation, including a detailed photo recording, is available.


BASIC INFO
ve výstavbě (hrubá stavba)
Are you interested in real estate?
Contact the agent dealing with this property.
OTHER PROPERTIES OF THE AGENT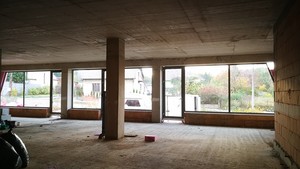 Hlavní, Horoušany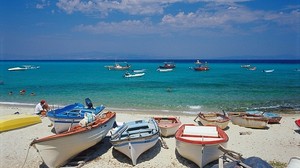 Polská, Praha 2