Radlická 227/107, Praha 5
OFFICE SPACE FOR RENT - PRAGUE 5, SMÍCHOV
---
370 Kč per square meter monthly
utilities 85 CZK / m2 per month without VAT
PRESENTATION OF REAL ESTATE
Office space (350 - 12,000 sqm) for rent in an attractive developing part of Prague 5 with a unique view of Prague. Boiler room Park Radlice offers modern space for the most efficient use in an attractive location surrounded by greenery and with the possibility of above-ground and underground parking.
Flexible use of office space according to client requirements. The Boiler Room Park provides state-of-the-art work spaces that include air-conditioned and ventilated spaces, intelligent high-speed elevators, raised floors with cabling boxes, and the possibility of converting to a smart office.
The park also offers electric car charging stations, a large garden, an outdoor fitness room with showers, a bicycle space, a bistro in the building and a private terrace on each floor, to provide the most comfortable working environment. The first floor of the building is located above the terrain than usual and thus allows a nice view of the surroundings.
Near the building is a metro station (Radlicka or Jinonice), bus lines 137, 176, 501 and the train station (Jinonice).
Space is available from April.
Fees of CZK 85 / m2 include cleaning of the premises, reception, lift, security service and last but not least, outdoor fitness and landscaping.
Energy performance of the building: A
BASIC INFO
Are you interested in real estate?
Contact the agent dealing with this property.
OTHER PROPERTIES OF THE AGENT
Malostranské náměstí , Praha 1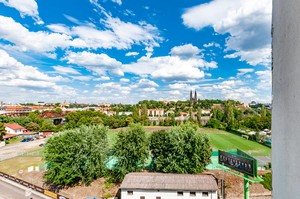 Strakonická 1424/21, Praha 5