Hlásná Třebaň
For sale villa (762m2) and house (107,04m2), land (3278m2) Hlásná Třebáň
---
on request
info about price in agency
PRESENTATION OF REAL ESTATE
Extraordinary offer for sale of two brick houses - large (762 m2) on a unique and large plot of land (3278 m2) in a beautiful and romantic location with extraordinary views of the surroundings, in the protected landscape area of the Bohemian Karst - Karlštejn. The house is surrounded by a garden with mature trees with a swimming pool before completion.
Windows, balconies and terraces provide unique views of the surrounding rich greenery without any distractions.
The village of Hlásná Třebaň with complete civic amenities, kindergartens, schools, restaurants, shops, is a quiet, clean and safe place to live with quality infrastructure and rural character. It is located on the left bank of the Berounka, 2 km east of Karlštejn, less than 24 km southwest of the center of Prague and 10 km southeast of Beroun.
The house with a usable area of 762 meters underwent a complete renovation in 2010-2011. The house has an elevator, there are several terraces with beautiful views of the countryside. The underground garage provides parking for 13 cars.
The layout of the house 6 + 1 is spread over 4 floors, attic and suterrain. Heating is provided by a gas boiler located in the utility room.
The railway line 171 Prague - Beroun leads through the village, from which the line 172 Hlásná Třebaň - Lochovice branches off. Railway Line 171 Prague - Beroun is a double-track electrified national line.
The center of Prague and Václav Havel Airport are a 30-minute drive away. Karlstejn Golf Club 10 minutes. Golf Resort Karlštejn The 27-hole course is one of the most beautiful golf courses in Europe and one of the most visited resorts in the Czech Republic.
Energy performance of the building: G (not communicated by the owner)
BASIC INFO
Are you interested in real estate?
Contact the agent dealing with this property.
OTHER PROPERTIES OF THE AGENT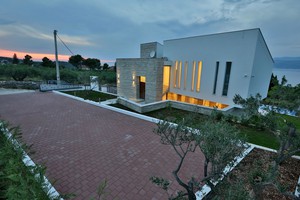 Polská, Praha 2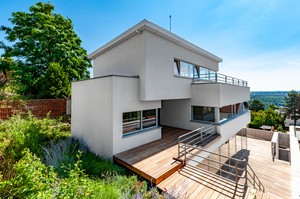 Barrandovská 1271/39, Praha 5